February 1st, 1944, Marshal Bernard L. Montgomery presents to the S.H.A.E.F. (Supreme Headquarters Allied Expeditionary Force) the plan Neptune prelude to Operation Overlord. This plan includes an increase of the front landing to the west and involves the use of two additional airborne divisions. This will be the 82nd and 101st American Airborne Divisions who will be responsible for securing and protecting the western flank of the landing in the Cotentin peninsula.
The objectives de la 82nd AB : sector Merderet
Jump on both side of the Merderet river. Take Sainte Mere Eglise. Capture and hold the bridges at La Fiere and Chef du Pont. Destroy the bridges on la Douve at Etienville-Beuzeville La Bastille. Establish a bridgehead on the west Merderet and hold the northwestern flank of the bridgehead.
FORCE A
DZ »O » Ste-Mère-Eglise
505th PIR (Parachute Infantry Regiment), HQ (Headquarters) 82nd Airborne. Take Ste Mere Eglise, La Fière et Chef du Pont. Keep the defensive line at Neuville-Baudienville.
DZ »T » Amfreville
507th PIR, 505th PIR assistance to take La Fière. Keep a line of defense Gourbesville – Le Hameau Renouf.
DZ »N » Picauville
508th PIR, Co. B of the 307th AEB (Airborne Engineer Battalion). Destroy the bridges on La Douve, to seize a bridgehead to Le Hameau Renouf.
FORCE B Glider
LZ »O » Ste-Mère-Eglise
52 gliders, mission Detroit (LZ arrival on June 6 4:07).
LZ »W » Les Forges
176 gliders, mission Elmira (6 June between 11:10 p.m. 9:10 p.m. ET), 100 gliders, Galveston Mission (June 7 7:00 to 7:10), 100 gliders, Hackensack Mission (June 7 9:00 to 9:10).
FORCE C Task Force Howell « Seaborne ».
Troops, tanks and artillery arrive by sea in the day of June 6th, 1944 and rejoin Sainte-Mere-Eglise as soon as possible.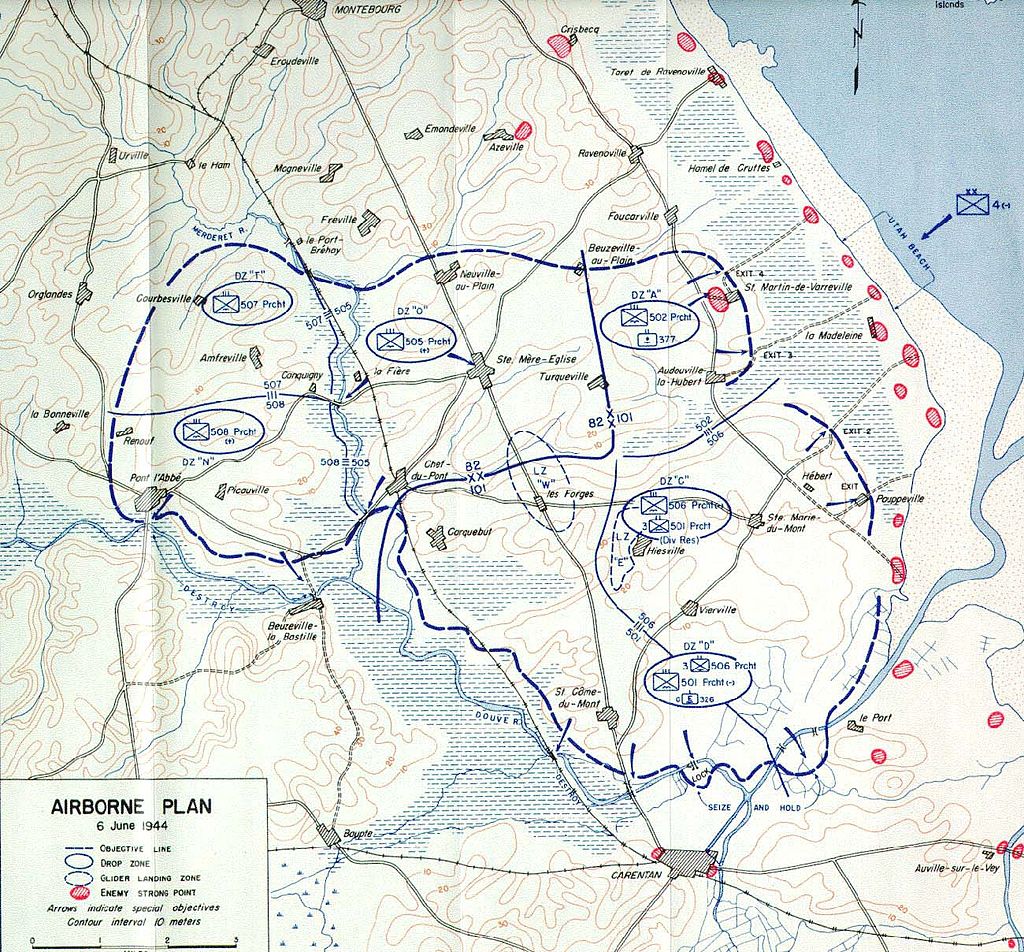 The objectives of the 101st AB : coast area behind Utah Beach
Capture and hold the 4 roads from Utah. Destroy the German battery of St. Martin-de-Varreville. Take La Barquette sluice. Destroy the bridges on La Douve and take a line of defense to protect the southern flank.
DZ »A » Saint-Martin-de-Varreville
502nd and 377th PFAB, seize the outputs 3 and 4 in St. Martin and Audouville. Destroy the battery of St. Martin and the cantonments at Mezieres.
DZ »C Hiesville
3/501e PIR 1 and PIR 2/506e HQ and the 101st Airborne. Take exits 1 and 2 and Pouppeville- Houdienville.
DZ »D » Angoville au Plain
1 and 2/501e PIR, PIR 3/506e and C Co. 326th AEB. Protect the southern flank. Take La Barquette sluice, blowing up bridges on La Douve and capture the bridges near Brévands.
LZ »E » Hiesville
52 gliders, Mission Chicago (June 6th 4:00), and 32 gliders, mission Keokuk (June 6, 21:00).